ENG




FOLLOW US

LOGIN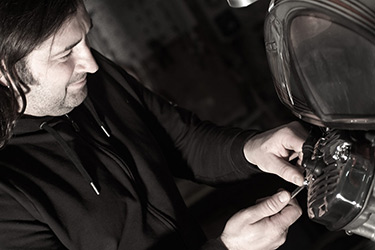 Andrea Rossignoli
Two wheels e 2.500.000 Km
Engines, motorcycles and a long long way... a love and a passion that was founded in 1968 when Andrea, still in its infancy, already felt the urge strongly imprinted in his DNA.
His first steps led him wherever there was an engine to be admired: the bike of the father, the uncle's car or the tractor's neighbor.
The innocent child's game will soon turn into a real passion confronting so, as a teenager, with the first work experience by undertaking an extensive training and testing. p>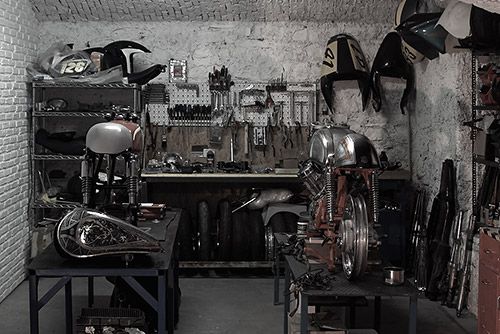 Many years of experience in the field of motorcicle's preparations, in collaboration with well-known Italian houses and test prototypes for one of the most famous and renowned companies of racing bikes, give him much popularity among fans of motorcycling and make it famous and appreciated among journalists sector.
His accomplishments, trips riding his prototypes, the more than two million kilometers. routes in Europe and America have been emphasized over the years by major awards..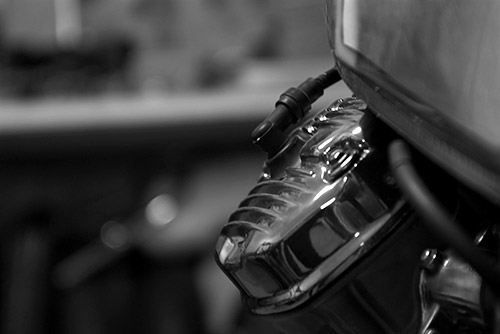 National newspapers and magazines often have written about him praising his talent in editorials and articles.
Now sure of his professionalism and expertise and supported by technical partners in the use of traditional artisan of motorcycle parts, realized his dream: STREETFIGHTER CUSTOM is the brand that seals many years of passion and commitment in order to ensure the best result in terms of both performance and customization.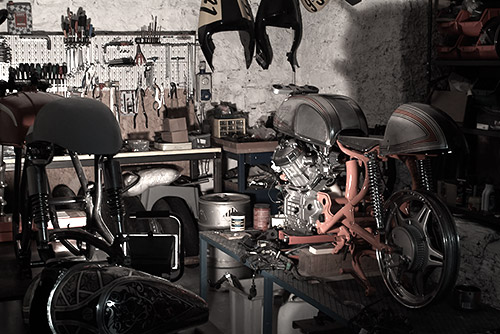 Satisfy the expectations of every fan who caters to Andrea is a priority:
engine fine-tuning, building motorcycle parts and final preparations meticulously designed and tested create stable motion streetfighters, cafe racers, choppers, custom bikes, special Harley-Davidson...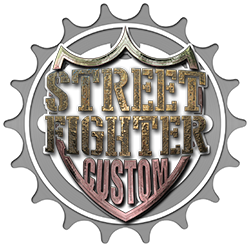 Define garage the STREETFIGHTER CUSTOM workshop is improper: as in a studio the artist creates his works and where his skilled hands give life to his ideas.
An old shed, characterized by brick vaults, was converted into a space-lab where Andrea can accommodate bike enthusiasts, customers and friends. By day, you can hear the far engine noise and moments of silence are dedicated to their dirty hands working with satisfaction, frames, forks, shock absorbers, discs, pistons...
Andrea is a source of ideas and mechanical skills where, between work and fun, in a rustic but sober room, featuring recovered pieces, dismembered motorcycles and transformed into special, you can go a bit'of time to dream and plan together ideal iron.
His quiet smile, his proverbial availability, his unbridled passion for two wheels, the maniacal precision and attention to detail will convince to be landed at the place where the dreams will materialize.
UC- Trade Di C.MASETTI.
Via Mazzini, 6 - I.21100 Varese (VA) - Italia
P.I. 02592520122
C.F. MSTCNZ61E66E734U
UNEXPECTED CUSTOM
is a trademark of UC-TRADE
©All rights reserved.
Any reproduction of images, designs, and all forms of intellectual property, even in part, without written permission is prohibited and punishable by law.
Law 633 of April 22, 1941, as amended.