ENG




FOLLOW US

LOGIN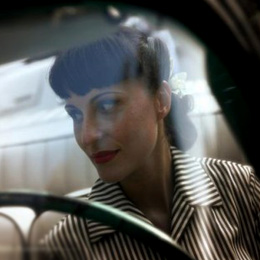 SUSANNA CATTAI
The PinUp of the sign
Her interest in American illustrations from the '30s, '40s, and '50s, which has always been a strong guiding light for her, will condition the subsequent professional choices made by the artist.
Rockwell's delightful scenes of daily life, the sensual and winking pin-up girls of Elvgren, and Bell's hyperrealism represent her initial respectful tributes to the great American masters.
Her superb and refined technique, careful stylistic research, and almost maniacal attention to detail are found not only in the sophisticated acrylic canvases, but also in a series of leather items such as aviator jackets for the enthusiasts of vintage apparel, vests and wallets for demanding motorcyclists, sheaths for knives for collectors, old-style plaques and signs, etc.
The customization of each of these items makes them unique and one-of-a-kind - dedicated to those who would not be happy with anything else.
Susanna Cattai was born in Varese in 1973.
When she finished her formal education (art school, degree in scenography, two years of specialization at La Scala Theater in Milan), she initially worked in the theater taking part in creating staging for important opera festivals and shows in Italy and other countries.
Subsequently she came to decoration after executing a number of projects for public and private clients.