ENG




FOLLOW US

LOGIN

BERKEL & UNEXPECTED CUSTOM
To respond to a continually evolving market, and to raise the attention to ergonomic's and aestetic's, Berkel has chosen Unexpected Custom as a elective partner that shares the same objectives and values.
The new range of Berkel's products 2015/16 is characterized by high quality, unique decorative elements using unusual colours combinalitons with the higtest quality materials al done by hand with extreme care to detail.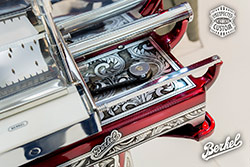 The sense of tradition of an historical brand, united with the avant garde aestetic's of Unexpected Custom give a product with elegance, uniqueness and style.
The purity of these splendid machines, decorated in a refined gold and silver, are able to transform any domestic enviroment and crate a unique ambience in the professional hospitality industry.
The new trend consists of particular care and attention to furnishings with a high level of personalization to satisfy the expectations of exlusivity of the client and to become a symbol of excellence.
Chic, sophisticated, endearing and contemporary are the proposed design: JUGENDSTIL, VINTAGE BAROQUE, STEAMPUNK, HASTA LA MUERTE e RUSTED FLAMES; a unique visual experience involving the transformation of the basic material into a sublime experience of taste.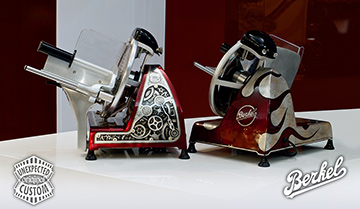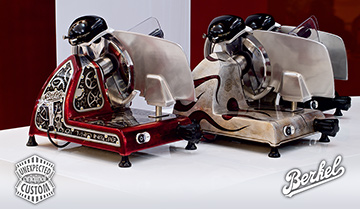 The magic of uniqueness.
Where the sumptuousness
of the gold
clashes with the strength of steel
to caress the black
of Berkel's elegance.
P15 Jugendstil.
The excellence born out
from the myth.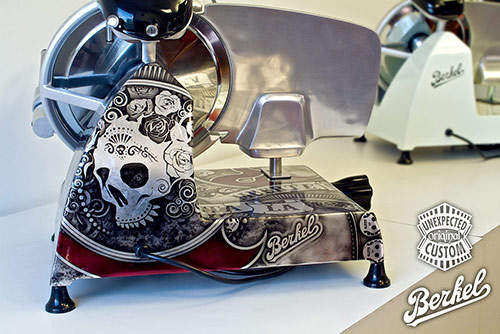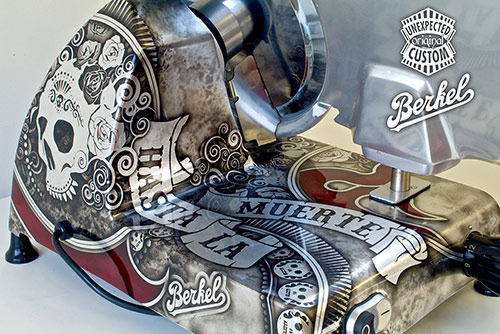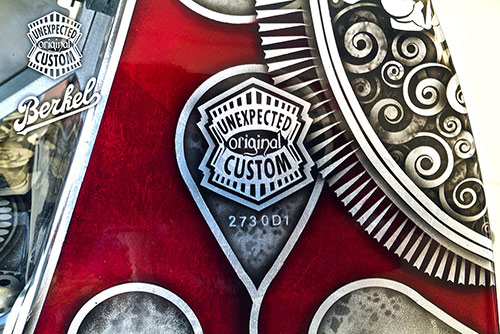 Video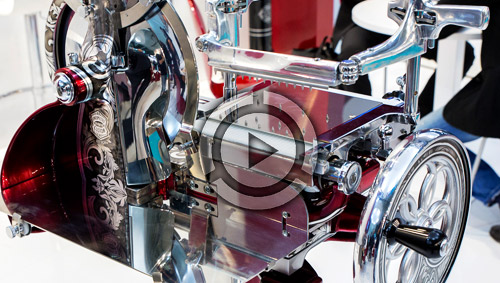 Berkel & Unexpected Custom at Milano Host 2015watch the video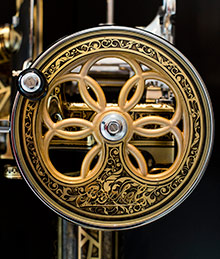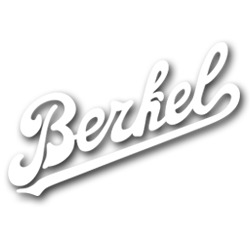 The legend was born in 1898 under the guidance of Wilhelmus Adrianus Van Berkel, who uniting passion and experience, reproduced mechanically the movement of the hand cutting with a knife.

The genial invention of the slicer, difused throughtout the world, already in the early 50's Berkel was not jast an innovative product, but the brand had already become a true Status Symbol.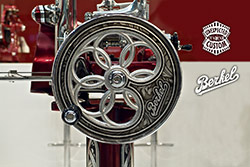 After more than 100 years of history the name Berkel is still synomymus with perfection, trustiness, innovation and durability.

These values are handed down with pride and form a part of every day of all who enter and are a part of this world.

This is why berkel is not just a brand but a lifestyle, a passion.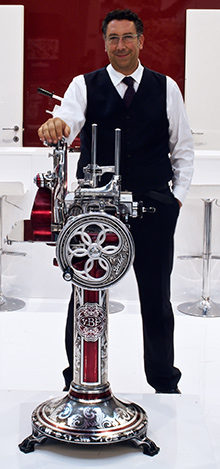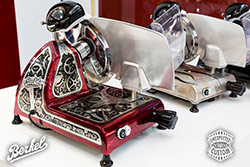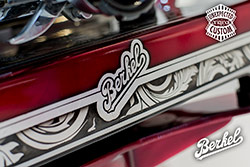 UC- Trade Di C.MASETTI.
Via Mazzini, 6 - I.21100 Varese (VA) - Italia
P.I. 02592520122
C.F. MSTCNZ61E66E734U
UNEXPECTED CUSTOM
is a trademark of UC-TRADE
©All rights reserved.
Any reproduction of images, designs, and all forms of intellectual property, even in part, without written permission is prohibited and punishable by law.
Law 633 of April 22, 1941, as amended.