ENG




FOLLOW US

LOGIN
CUSTOM & SPECIAL BIKES
Custom is an attitude, a way of living the surrounding world, transforming it into something unique and personal.
Our genuine artistic work elevated to the state of art and declined in the world of customization can offer aesthetic emotions that exceeds the expectations of the customers, enthusiasts and collectors.
In our workshops we study and design, in collaboration with specialized workshops, the construction of a dream.
Amazing livery, chrome platings, different color variations, refined aesthetic details and high performance components.
Chopper, Bobber, Old Style, Café Racer and subsequent new denominations to place these works in a timeline book similar to artwork catalogs in history.
how to order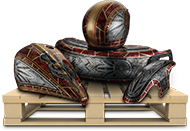 Do you want order an artwork executed on your tank or on motorcycle's parts?
Click here and follow the instructions on the page.