ENG




FOLLOW US

LOGIN
OUT OF PRODUCTION - NOT AVAILABLE
Brands and Models
The "base" helmets that we propose
The shells on which we execute our artistic works are generally Jet Open Face helmets.
These helmets are well suited to customization, both for the vintage style, which according to their technical and "mechanical" features: providing a uniform surface, without undercuts and mechanisms that disturb, both the artistic realization, that the aesthetic continuity.
Each helmet, made in a workmanlike manner, need to be prepared: sanded, prepared with gripping paint etc.
The process is particularly complex, especially for special achievements on gold or silver leaf.
Our helmets, as well as tanks, etc. are worked with a "luthier philosophy".
Each step is controlled, sanded by hand, as well as the various layers final, both with a satin finish that mirror polished.
In this section are indicated the models, features, approvals, measures and prices that we offer to our collectors and biker.

ATTENTION
The not approved helmets are to consider as a product for collectors use.
Their use is under the responsibility of the customer.
how to order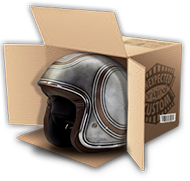 Do you want order a special artistic helmet personalized for you?
Click here and follow all the instructions on the page.
We are official reseller of:








UC- Trade Di C.MASETTI.
Via Mazzini, 6 - I.21100 Varese (VA) - Italia
P.I. 02592520122
C.F. MSTCNZ61E66E734U
UNEXPECTED CUSTOM
is a trademark of UC-TRADE
©All rights reserved.
Any reproduction of images, designs, and all forms of intellectual property, even in part, without written permission is prohibited and punishable by law.
Law 633 of April 22, 1941, as amended.