ENG




FOLLOW US

LOGIN
HOW TO ORDER A PERSONALIZED HELMET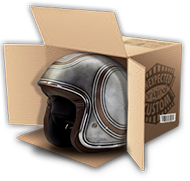 To order one or more helmets, form our atelirs, please follow the instructions described in this section.
This page describes all steps: from the first contact to the final delivery of the requested artwork.
Please, send an email to info@unexpected-custom.com and provide us all the needed information in order to proceed with accuracy and clarity for the achievement of the required artwork.
Follow these steps to proceed with the order:
1

Choose the helmet brand and model on which execute the artwork.
For details about the available helmets visit the page Brand & Models

Please, indicates the size or the head measurements in cm.
Click here to show the sizes chart

If you want, you can indicate also accessories like visors, goggles, eyewear etc.
2

Choose a design from those shown on our website.
Please, indicates eventually changes to the design such as colour, shades or extra elements such as quotes, names, lettering, numbers, etc.

You can also attach photos, drafts and any images that can illustrate your ideas, desires and needs; any suggestion and additional indication will be useful in order to offer a detailed quotation and provide an artwork at the best of your expectations.

For more details about the BASIS and DESIGNS visit the pages:
Backgrounds & Basis and Designs.
| | |
| --- | --- |
| 3 | Please, indicates the city and country where you want receive the completed artwork. |
| | |
| --- | --- |
| 5 | You will receive via email our proposal with detailed info about costs, realizations time, delivery, shipping etc. and agreement formalization clauses. |
6

You can confirm our offer by filling out the online form by clicking on the link provided in the received email.


Personal and fiscal data will bi required for the correct invoice header and data relating to the shipment of the finished artwork.

You will then receive the first invoice in advance ( equivalent to 30% of the estimated cost ) and the payment request through the modality you have indicated.
7

After receiving the payment we will proceed with the artistic works.

You will be informed via email about the work in progress through images and photos.


You will be able to view , step by step, the processing of the works until their completion.




| | | |
| --- | --- | --- |
| 8 | When the work is completed you'll receive the final invoice for balance, then we will proceed with the shipment. | |
| | | |
| --- | --- | --- |
| 9 | You'll receive an e-mail with a confirmation of shipment and the Track Number to be able to monitor the delivery steps. | |
UC- Trade Di C.MASETTI.
Via Mazzini, 6 - I.21100 Varese (VA) - Italia
P.I. 02592520122
C.F. MSTCNZ61E66E734U
UNEXPECTED CUSTOM
is a trademark of UC-TRADE
©All rights reserved.
Any reproduction of images, designs, and all forms of intellectual property, even in part, without written permission is prohibited and punishable by law.
Law 633 of April 22, 1941, as amended.