ENG

FOLLOW US
KUSTOM WORLD
Unexpected Kustom: la differenza tra oggetto e mito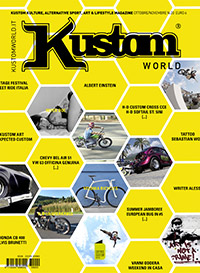 "L'opera nasce dalla passione per l'arte che permette l'espressione più pura di libertà. La stessa emozione che si percepisce a cavallo delle due ruote: giocare con il vento, il sole, la pioggia".
In soli due anni di vita Unexpected Custom ha raggiunto importanti traguardi: migliaia di estimatori seguono le opere tramite i vari canali di comunicazione online.
Unexpected Custom è un nuovo brand italiano che nel mondo del customizing racchiude opere d'arte "applicata" e riunisce sotto il proprio nome la collaborazione e la forza artistica di designer, architetti, illustratori e pittori. È un marchio giovane ma ha già conquistato la stima e il consenso di molti appassionati ed esperti del settore Kustom producendo opere ideate e realizzate in pezzi unici o in tiratura limitata.
Caschi, serbatoi, moto complete e accessori vengono creati e/o rielaborati all'interno di un workshop coordinato da Cinzia (in arte Kynthia).
K., che già negli Anni 70 intraprendeva i primi studi di arte e design in prestigiose scuole ed atenei di Milano (sotto la guida di maestri del calibro di Bruno Munari, Salvatore Garau, Gaetano Kanitsa, Marcello Morandini).
Nell'intento di soddisfare il suo sogno di coniugare la sua passione per le moto e i viaggi con la sua anima artistica, Cinzia è riuscita a far collaborare artisti di decennale esperienza con alle spalle successi internazionali in ambito pittorico, grafico e pubblicitario in un progetto comune. L'intenzione era quella di creare un team in grado di raccontare, attraverso concrete realizzazioni, la storia senza limite di confini e di tempo dell'arte e dell'artigianato di qualità.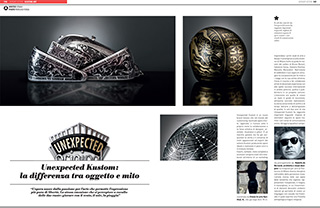 OTHER ARTICLES AND EVENTS
Artists & Designers
The Unexpected-Custom staff is formed by artists, designers, illustrators, whose experience takes advantage of works decades, education, and international success in the artistic, advertising and design sector.
UC- Trade Di C.MASETTI.
Via Mazzini, 6 - I.21100 Varese (VA) - Italia
P.I. 02592520122
C.F. MSTCNZ61E66E734U
UNEXPECTED CUSTOM
is a trademark of UC-TRADE
©All rights reserved.
Any reproduction of images, designs, and all forms of intellectual property, even in part, without written permission is prohibited and punishable by law.
Law 633 of April 22, 1941, as amended.