ENG

FOLLOW US
RIDERS AROUND
Helmet Versace firmati Unexpected Custom
L'arte che sublima un Helmet

Ancora una volta UNEXPECTED-CUSTOM riesce a stupire: per la collezione di VERSACE uomo autunno-inverno 2014/2015 gli artisti di U-C danno vita a opere d'arte di qualità sublimando con maestria ed esperienza le loro competenze artistiche: pezzi unici caratterizzati da un'elevata precisione tecnica sia nel disegno che nella realizzazione manuale dei decori esclusivamente pittorici.
A partire dalle grafiche iconiche della maison della Medusa, questi artisti hanno saputo reinterpretare il classico helmet in chiave contemporanea grazie ad un elegante e ricercato equilibrio tra forma e complessità, fra linee e decori, fra colori e tratti monocromatici. All'attenta ricerca estetica si unisce inoltre un sapiente uso dei materiali e delle tecniche pittoriche che contraddistinguono l'operato di UNEXPECTED-CUSTOM e che rendono questi accessori unici nel loro genere accrescendone il valore intrinseco.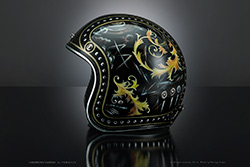 Design "BAROCCO"

Un senso di tradizione accompagnato da un'eleganza di monocromie, inimitabile all'insegna di un lusso pacato. Il casco "Barocco" è caratterizzato dal contrasto del fondo nero lacca, realizzato ad aerografo, con i preziosi colori delle nuance dell'oro degli arabeschi di foglie d'acanto dipinte a pennello.
Il casco si arricchisce ulteriormente della finitura tridimensionale ottenuta tramite il delicato processo di applicazione di borchie Swarovski.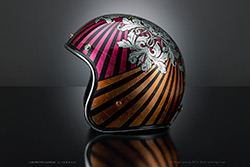 Design "MULTICOLOR"

Stile inconfondibile, con accostamenti cromatici vivaci ma equilibrati ed evocativi. Casco completamente rivestito in lamina di foglia d'argento, dalle linee realizzate con colori trasparenti da vetrata spruzzati ad aerografo che permettono di intravedere il pregiato fondo argenteo. Il raffinato e minuzioso decoro è realizzato a pennello.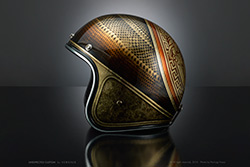 Design " MEDUSA"

L'eleganza del bronzo e la preziosità dell'oro sono i segni distintivi di questo design di grande impatto caratterizzato dal tradizionale simbolo Versace: la mitologica Medusa. Casco completamente rivestito in lamina di foglia d'oro, arricchito da una sensazione speciale di estetica dai toni bronzei. La texture realizzata ad aerografo compone un motivo circolare infinito e al tempo stesso circoscritto dalla greca illuminata in oro.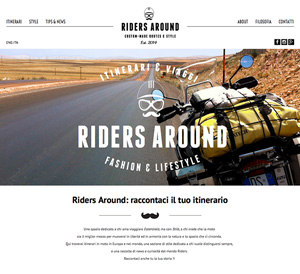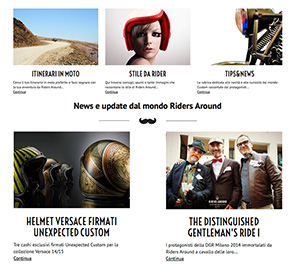 OTHER ARTICLES AND EVENTS
Artists & Designers
The Unexpected-Custom staff is formed by artists, designers, illustrators, whose experience takes advantage of works decades, education, and international success in the artistic, advertising and design sector.
UC- Trade Di C.MASETTI.
Via Mazzini, 6 - I.21100 Varese (VA) - Italia
P.I. 02592520122
C.F. MSTCNZ61E66E734U
UNEXPECTED CUSTOM
is a trademark of UC-TRADE
©All rights reserved.
Any reproduction of images, designs, and all forms of intellectual property, even in part, without written permission is prohibited and punishable by law.
Law 633 of April 22, 1941, as amended.