ENG

FOLLOW US
What is Unexpected Custom?
Unexpected Custom – A unique artistic expression in the world of motorcycles
Unexpected Custom is a premier Italian brand for high-quality artistic motorcycle helmets and tanks, helmet accessories, lighters, leather goods, guitars, and even furniture.
The brand is fueled by the creative passions of many artists ranging from architects to painters.
Unexpected Custom is the brainchild of Cinzia also known as Kynthia, a top-notch artist with years of experience both with design and collaboration; she also manages and coordinates the entire creation process of the various products of the company.
Unexpected Custom has unique pieces that they make in limited numbers available from their store or if you have more discerning tastes and are interested in something one of a kind, they can make custom pieces to order, exclusively for you.
Their goal is to combine art with motorcycles and lifestyle a merging of two of Kynthia's passions.
The fine folk at the company will consult with you the individual customer for exclusive pieces from beginning to end.
They will schedule one on one meetings with you to understand your precise design needs and your personality to get the exact design you want.
They will provide a quote for the work involved and with your go ahead will start the creative process. They will ensure that you are onboard with the design, will visualize it in their 3D software models to determine its impact, finalizing the design of the product and making sure the customer is satisfied before creating the prototype for a real-world visualizing and then ending with the final product with all the kinks in the design and artistic process ironed out for a very effective and impactfull result.
They have not only years of experience in classical art and art techniques but invest a significant amount of time in their Art lab coming up with new creative methods for more unique artistic endeavors in how they implement the design on their creations.
They also work to come up with special metallic and iridescent pigments for a more satisfying end product with potent reflections and a brilliant disposition.
Their creative process involves mixing metal powders or additives and creating layers upon layers of color both translucent and opaque on products like helmets and tanks with final protective coats and a mirror finish with fine sanding.
Their end product is scratch proof and resilient.
And even if there is some damage to the artwork through wear and tear they can fix it for you as well.
They utilize this process on helmets and in the case of tanks they have a base metallic gilding using gold, silver or copper upon which the painting and layers and protective coats sit.
The result is an ethereal holographic design hand-made specifically for you.
Karl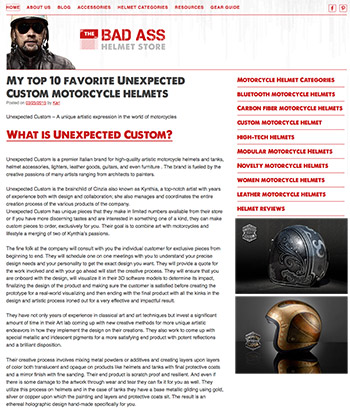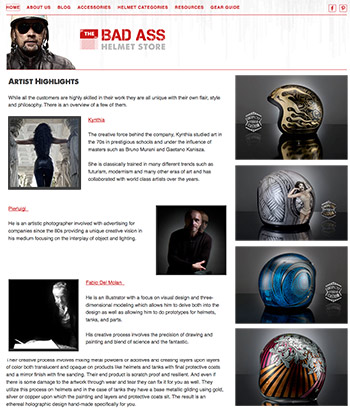 OTHER ARTICLES AND EVENTS
Artists & Designers
The Unexpected-Custom staff is formed by artists, designers, illustrators, whose experience takes advantage of works decades, education, and international success in the artistic, advertising and design sector.
UC- Trade Di C.MASETTI.
Via Mazzini, 6 - I.21100 Varese (VA) - Italia
P.I. 02592520122
C.F. MSTCNZ61E66E734U
UNEXPECTED CUSTOM
is a trademark of UC-TRADE
©All rights reserved.
Any reproduction of images, designs, and all forms of intellectual property, even in part, without written permission is prohibited and punishable by law.
Law 633 of April 22, 1941, as amended.