ENG

FOLLOW US
LOW RIDE
Arte di strada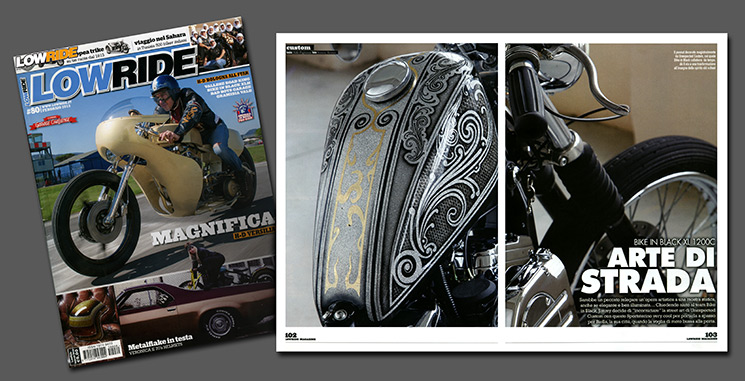 BIKE IN BLACK XL 1200C
Sarebbe un peccato relegare un'opera artistica a una mostra statica, anche se elegante e ben illuminata...
Chidendo aiuto ail team di Bike in Black, Jimmy decife di incorniciare la street art di Unexpected Custom con questo Sportsterino very cool per portarla aspasso per Bileea, la sua città, quando la voglia di moto bussa alla porta.
Funambolo dello shacker per il Queequeg Cafe di Biella, nel tempo libero Jimmy alterna writing e cruising.
Da oltre 20 anni non perde mai occasione di togliere dall'anonimato qualche porzione di muro della città lasciando un tocco artistico con le bombolette.
Quella delle due ruote è una passione più recente ma lui la vive con lo stesso slancio creativo.
Dopo essere passato da una grintosa Buell a uno Sporster per meglio assecondare una il rick'n roll che gli scorre nelle vene, lo step successivo è adeguarlo alla sua personalità vivace.
Un super classico in fatto di serbatoi Harley-Davidson fornisce l'impulso per dare l'inizio ai lavori.
Nello stand allestito a Verona due anni fa da Bike in Black il suo sguardo viene catturato da un peanut rifinito a meraviglia.
I suoi occhi attenti e curiosi capiscono all'istante che non si trova davanti al solito metal flake, mentre si perdono ammirati tra le trame a rete, ghirigori Belle Époque, trasparenze e sottili lingue di fuoco in foglia d'oro a 24 carati...
Il caleidoscopio emozionale porta la firma di Unexpected Custom, brand collettivo italiano che riunisce sotto la egida un ensemble di designer, pittori, illustratori e architetti.
Coordinati dalla sensibilità artistica e dalla passione per moto e viaggi di Cinzia "Kynthia", fulcro creativo e organizzativo di Unexpected Custom, interpretano con un mélange ti tecniche decorative la più articolate fantasie dei kustom maniac.
Caschi, serbatoi, accessori e carrozzerie complete sono realizzati in serie limitatissima o più di frequente in un pezzo unico per garantire esclusività sotto ogni aspetto.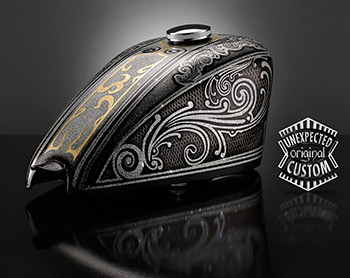 Il peanut decorato magistramente da Unexpected Custom, col quale Bike In Black collabora da tempo dà il via a una trasformazione all'insegna dello spirito old school.
E' il caso del serbatoio Old School no. 1 che rende prezioso lo sporster Evo di Jimmy.
Le intenzioni del biker biellese non sono quelle di esporre la sua moto nel salotto di casa per farne un oggetto puramente contemplativo.
Le scorribande insieme agli amici motorizzati che frequentano il suo locale, così come le solitarie cavalcate antistress, ora danno molta più soddisfazione, non c'è alcun dubbio. La pensa alla stessa maniera il team di Bike in Black al quale si rivolge per rendere in suo a200 Custom, essenziale e spartano ma ricco di stile.
Da più di vent'anni Giacomo e Mauro soddisfano i desideri di una clientela tra le più eterogenee, prendendo in considerazione ogni tipo di progetto che viene loro sottoposto.
Dai bobber al modern chopper, passando per cafe racer, scrambler ed esagerazioni teutoniche, nella loro lunga carriera hanno dimostrato un'innata versatilità.
Questo senza mai perdere di vista il filo conduttore che accomuna le special nate nell'atelier Bike in Black: sono tutte Harley personalizzate per affrontare la strada in serenità, pur avendo i numeri per partecipare a un bike show.
Sul piano estetico viene ricercato un ideale equilibrio tra stile e funzionalità, senza togliersi il gusto di qualche svisatina per non rischiare la nonotonia.
Seguire per filo e per segno i dettami di un genere custom ben preciso sarebbe fin troppo noioso per Giacomo, che maneggia cataloghi aftermarket con l'abilità di un croupier di Las Vegas.
Lo stesso vale per Mauro, fautore delle parti artigianali realizzate nell'atelier di Valdengo, situato a otto chilomeri a est di Biella.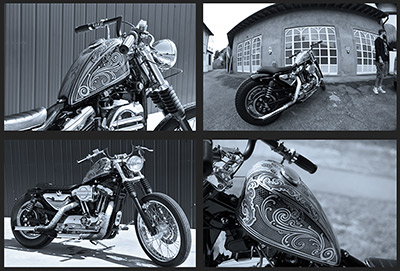 Il serbatoio Old School no.1 montato sul trave del telaio slancia la linea dello sporster rielaborato a regola d'arte da Bike In Black
Ecco che un filtro aria Küryakyn, popolare sulle special cariche di billet degli anni Novanta, si rivela utile anche in progetto come queso.
In combutta con le drag pipe bendate libera il respiro e voce del miileddue facendogli acquistare un pizzico di brio che non guasta mai.
Dopo lo strip tease operato da Mauro lo Sporster risulta dannatamentepiù attraente.
Merito della sella Biltwell Banana di e di in mini parafango artigianale, assicurato ai supporti di serie accorciati, che mette in evidenza l?Avon Speedmaster 5.00" - 16".
Ancor più libero l'anteriore da 21" che gira nella forcella rivisitata con foderi neri, soffietti e faro Softail Springer.
La sovrasta un manubrio Clubman by Biltwell al quale sono assicurati comandi in alluminio forgiato Kustom Tech.
a loro finitura grezza potrebbe sembrare un controsenso confrontandola con la raffinatissima finitura del serbatoio, ma il Contrasto è efficace. Abbinare estetica da concorso e praticità d'utilizzo è un passo dovuto per la maggioranza degl appassionati.
Anche questa è una forma di street art, non accademica ma sempre in movimento.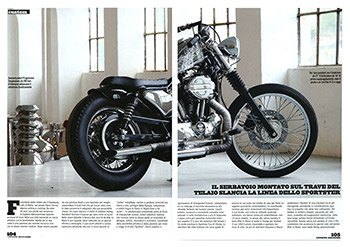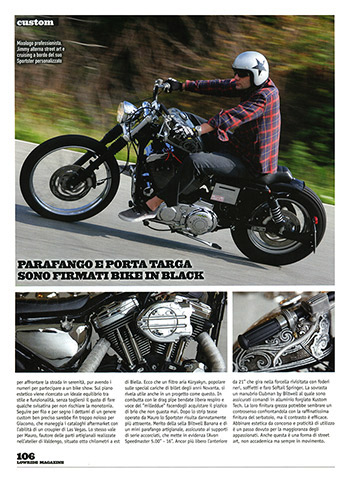 OTHER ARTICLES AND EVENTS
Artists & Designers
The Unexpected-Custom staff is formed by artists, designers, illustrators, whose experience takes advantage of works decades, education, and international success in the artistic, advertising and design sector.
UC- Trade Di C.MASETTI.
Via Mazzini, 6 - I.21100 Varese (VA) - Italia
P.I. 02592520122
C.F. MSTCNZ61E66E734U
UNEXPECTED CUSTOM
is a trademark of UC-TRADE
©All rights reserved.
Any reproduction of images, designs, and all forms of intellectual property, even in part, without written permission is prohibited and punishable by law.
Law 633 of April 22, 1941, as amended.