ENG




FOLLOW US

LOGIN
MOTOVERSO
Jugendstil Motorcycle Tank Painting by Unexpected Custom
Unexpected Customs have pushed the boundaries of motorcycle tank painting with this beautiful design and finish.
They completely covered the tank, front and rear fender in pure silver leaf 999 and then airbrushed with a transparent metallised colour to give it that amazing shine and finish. These have been customised for a Kawasaki VN800 project and the end result is just mind blowing.
I can only image what the finished bike will look like when all these freshly painted parts on it.
This is a fantastic edition into the new custom tanks section on Moto Verso and yet again is a totally different style. I like it when people get creative and push themselves to do something different.
The results speak for themselves and Unexpected Customs have produced something beautiful. With an almost Indonesian stylish pattern the silver leaf really looks well and just hope that they produce more designs like this.
Posted by Moto Verso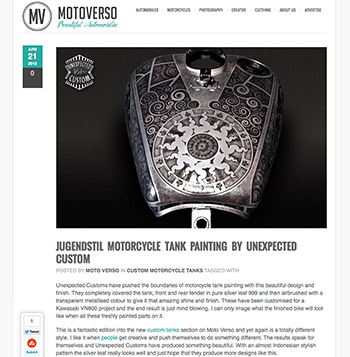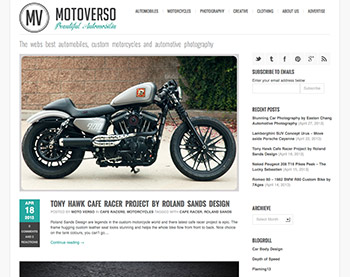 OTHER ARTICLES AND EVENTS