ENG

FOLLOW US
BIKERS LIFE
A Fangue Freddo

Opera artistica invidiabile per dare più valore al freddo metallo di questa special, letteralmente avvolta da una intrigante muta da rettile predatore.
Un progetto grafico più che complesso asseconda le modifiche di sostanza che trasformano la tranquilla Dyna nella famelica Snake.
Una preparazione complessa e intensa, una moto ricca di dettagli e curatissima fino alla più insignificante finitura, unione consapevole di una ricercata visione di stile, assolutamente nobile, compietata da una ricca interpretazione meccanica.
Queste poche parole racchiudono, magari in modo spicciolo, il significato della Snake: una custom seducente e complessa, sviluppata con pazienza e assolutamente non immediata, nel senso che a un primo sguardo non si notano tutti i dettagli, gli accorgimenti, l'attenta sintonia fra le parti. Si apprezza invece l'insieme armonico di linee "vecchia scuola" senza una nota stonata perché il vero spirito della Snake lo si scopre piano piano, con attenzione e palato fino… indiscutibilmente appagante e intricata è la decorazione grafica che riveste il piccolo serbatoio Foster e i fender artigianali.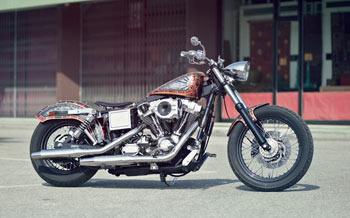 Pulito ed essenziale il posteriore della snake nasconde dettagli minimali ma essenziali come gli indicatori di direzione Custom Chrome appena visibili sui supporti del parafango.
Il serbatoio Cole Foster è segno di buon gusto soprattutto quando valorizzato dalla progettazione grafica di Unexpected Custom.
Non una semplice verniciatura ma uno sviluppo di design e art direction portato avanti da Unexpected Original Custom, affascinato dalla vellutata e coreografica pelle naturale di un ipotetico rettile di grandi dimensioni, naturalmente tra i più feroci e affamati presenti su questa terra.
La combinazione di motivi grafici e la riuscita percezione di avere di fronte il temuto animale a sangue freddo si devono alla mano esperta e sapiente di Yonah, autore materiale della pelle di questo Snake così incisiva nell'aspetto quanto nella sostanza radicalmente modificata da Motorcycles Clinic.
La base di partenza, lo avrete capito, è una sincera Dyna in versione Low Ride MY 2001, dotata ancora dei quel bicilindrico di 1450 CC che per molti puristi del marchio resta l'ultimo vero motore Harley degno di questo nome.
In verità non ha molta importanza perché il vecchio V-Twin americano è stato profondamente elaborato da Motorcycles Clinic fino a raggiungere una cubatura "piena" di 1550 cc: un bel mostriciattolo tutto ingioiellato Screamin' Eagle, dai pistoni all'accensione fino alla testata.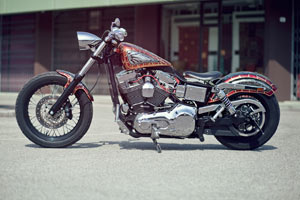 Il bicilindrico portato a 1550 cc richiede un adeguamento all'impianto frenante e allora Motorcicles Clinic interviene con con la nuova pinza Performance Machine a 4 pistoni.
Le parti "performance" di casa Harley si abbinano ad una sano e promettente albero a camme Andrews, alle valvole maggiorate e al grosso carburatore Mikuni da 42mm, completato da un filtro dell'aria vorace e assolutamente iconico.
Adeguata la carburazione e modificati gli scarichi originali, Motorcycles Clinic conserva la trasmissione di serie optando per una frizione Barnet, in grado di sostenere le muscolose prestazioni di questo 1450 dall'umore cattivo, imbrigliato nel telaio originale Dyna, semplicemente privato del telaietto posteriore.
Una bella svolta per il bicilindrico corrisponde a un'attenta messa a punto della ciclistica, sfruttando le buone componenti della Milwaukee, valide sia dal punto di vista estetico sia dinamico.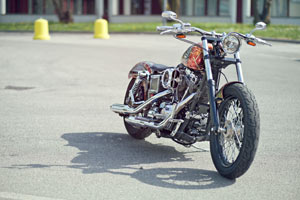 Sulla Snake trovano posto la forcella anteriore Softail con steli da 41mm, ribassata con apposito kit, le relative piastre in contrasto verniciate di nero e una coppia di validi ammortizzatori griffati Progressive, "puntati" sugli attacchi, capaci di abbassare notevolmente il posteriore di questa special Motorcycles Clinic.
L'anteriore leggero e aggressivo di di questa moto, valorizzato dal manubrio short track e dal classicissimo faro Adjure, s'intona al posteriore altrettanto slanciato e nostalgico, a ruota stretta, completato dal portatarga artigianale e maleducato come lo spirito più profondo si questa Snake, seducente creatura che vale la pena assaporare più a lungo, apprezzandone ogni più piccolo importante dettaglio.
Alessandro Gueli
OTHER ARTICLES AND EVENTS
Artists & Designers
The Unexpected-Custom staff is formed by artists, designers, illustrators, whose experience takes advantage of works decades, education, and international success in the artistic, advertising and design sector.
UC- Trade Di C.MASETTI.
Via Mazzini, 6 - I.21100 Varese (VA) - Italia
P.I. 02592520122
C.F. MSTCNZ61E66E734U
UNEXPECTED CUSTOM
is a trademark of UC-TRADE
©All rights reserved.
Any reproduction of images, designs, and all forms of intellectual property, even in part, without written permission is prohibited and punishable by law.
Law 633 of April 22, 1941, as amended.