ENG

FOLLOW US
DREZZY MODALAB
Unexpected Custom by Versace: i caschi special edition
Pian piano si torna ai ritmi cadenzati della routine quotidiana e dato che il tempo non è proprio dei migliori in questi giorni, si inizia a guardare con curiosità alle novità ed alle anteprime che l'Autunno/Inverno 2014 2015 porterà con sé. Per i centauri più autentici, ma anche semplicemente per chi ama la brezza e la praticità di un leggero e agile cinquantino, è in arrivo una capsule collection dall'estetica brillante ed audace che guarda con benevolenza alla sicurezza personale di chi si mette alla guida di qualsiasi due ruote, senza tralasciare l'importanza più frivola, che possiede l'estetica dei caschi da moto. La griffe Versace ha in serbo una collezione speciale realizzata con la partecipazione esclusiva di Unexpected Custom, marchio italiano che si occupa di personalizzazione e decoro di qualsiasi tipo di accessorio per motociclette, nonché di carene e pezzi vari
Gli emblemi ed i motivi decorativi classici del marchio Versace  si trasformano in pattern di lusso realizzati da mani esperte e in maniera del tutto artigianale, creando in questo modo dei pezzi di grande pregio la cui qualità è evidente anche alla prima rapida osservazione. Colori bold e grafiche geometriche e caleidoscopiche caratterizzano la linea composta da tre caschi diversi, il cui comune denominatore è lo stile vistoso ed intricato che è portabandiera di Versace. Cosa ne pensate di questa esclusiva realizzata da Unexpected Custom?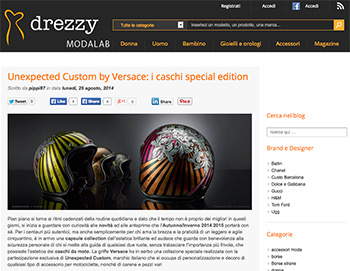 OTHER ARTICLES AND EVENTS
Artists & Designers
The Unexpected-Custom staff is formed by artists, designers, illustrators, whose experience takes advantage of works decades, education, and international success in the artistic, advertising and design sector.
UC- Trade Di C.MASETTI.
Via Mazzini, 6 - I.21100 Varese (VA) - Italia
P.I. 02592520122
C.F. MSTCNZ61E66E734U
UNEXPECTED CUSTOM
is a trademark of UC-TRADE
©All rights reserved.
Any reproduction of images, designs, and all forms of intellectual property, even in part, without written permission is prohibited and punishable by law.
Law 633 of April 22, 1941, as amended.