ENG




FOLLOW US

LOGIN

SAMURAI
design worked on Harley-Davidson Softail
Studs, wrought iron, textiles, decorations... typical elements that characterize the original aesthetic of the legendary Samurai armors.
After a study and a careful planning born this highly evocative design.

Completely covered in metal leaf and subsequently treated with a special technique that gives the surface a slight crackle.

Airbrushed with special colors for glass, expresses the astonishing beauty of the Samurai armor enhanced by precious ornaments.


This complete Harley Davidson Softail set consists of four parts: fuel tank, oil tank, rear fender and front fender.
After the preparation of the special background for gilding the pieces were completely covered in gold leaf and airbrushed with different tones of black, prepared in different mixtures, to obtain the maximum brightness and the numerous bronze shades.
Details
Artistic intervention code : 000208


Art techiques :
Gold leaf, airbrush.

Intervention details :

background : Full Metal
design : Samurai 1
extra 1 : ---
extra 2 : Name
extra 3 : ---
finish : Glossy finish

Processing time :
56 hours of artistic work on helmet
114 hours of artistic work on tank
189 hours of artistic work on motorbike set (3 pcs.)


Delivery time :
39 working days for one helmet
43 working days for one gastank
63 working days for a motorbike set (3 pcs.)

The delivery times are approximate and they are calculated based on the manufacturing and artistic processes, drying and testing times, and the processing orders currently scheduled.
RELATED ARGUMENTS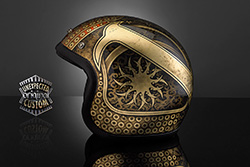 ACCESSORI MOTO