ENG




FOLLOW US

LOGIN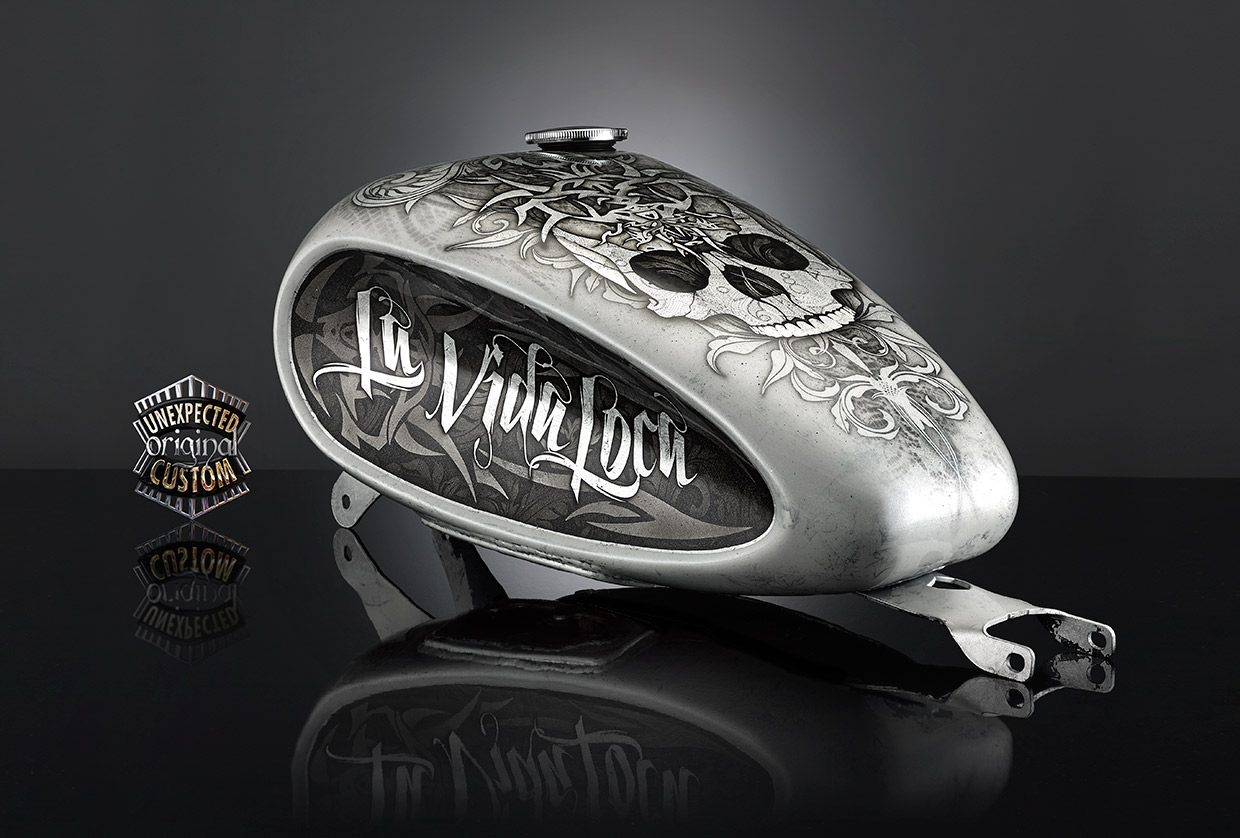 LA VIDA LOCA
design worked on Harley-Davidson Indian Larry
The big skull stand out from the foreground, framed by the rich baroque scrolls drawn by the dense leaves intersection and floral motifs.

The graphics are very refined and interpreted with different painting techniques, from the use of airbrush to the acrylic painting mixed with balanced elegance.

Signs by tribal inspiration enhances the complex backgrounds texture of the artistic paint job.
The artistic intervention, made on the unmistakable shape of this model "Indian Larry", was achieved covering the entire tank in silver leaf, applied in cracked effect, and worked with genuine nacre's powder

The special technique implementation offers seductive shades that shining on the silver background.

The floral pattern continues asymmetrically on the bottom of the tank to allow to chrome engine's parts to reflect the design.
Details
Artistic intervention code : 000257


Art techiques :
Silver leaf, nacre powder, airbrush, acrylic paint, special techniques.

Intervention details :

background : Cracked Metal
design : Skull & Flowers
extra 1 : ---
extra 2 : ---
extra 3 : ---
finish : Glossy finish

Processing time :
44 hours of artistic work on helmet
91 hours of artistic work on tank
148 hours of artistic work on motorbike set (3 pcs.)


Delivery time :
19 working days for one helmet
35 working days for one gastank
53 working days for a motorbike set (3 pcs.)

The delivery times are approximate and they are calculated based on the manufacturing and artistic processes, drying and testing times, and the processing orders currently scheduled.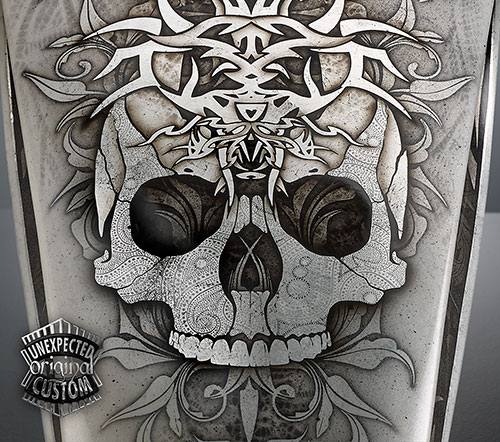 ACCESSORI MOTO