ENG




FOLLOW US

LOGIN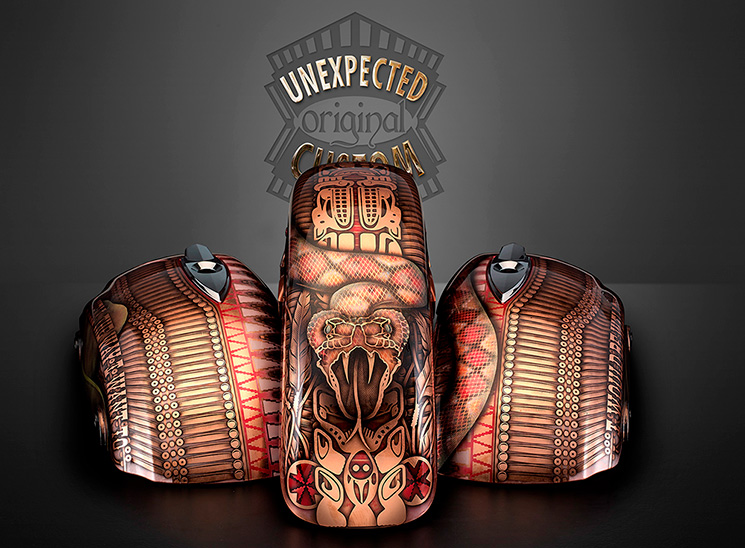 DAKOTA
design worked on Indian Chieftain
When the Indians saw the first horses, they baptized them large dogs.

For a few centuries there was no other means of transport in the West and the horse, imported by the first Spanish colonizers, became a symbol of movement in the great free and wild spaces of the new frontier.

Then it became the symbol of the adventurous wars between Native and American. It was finally replaced by the steam horse.

The motorcycle is undoubtedly the most successful reincarnation of the horse by means of the steam horse.

It is no coincidence that the first American motorcycle factory is called Indian and its Dakota workhorse as a tribute to the epic of the great spaces and the wars between redskins, cowboys and soldiers.

Unexpected Custom worked on a motorcycle of this legendary brand drawing on the imagination of the Far West
Sitting Bull, Crazy Horse, Wild Bill and General Custer are the protagonists of the opera named Dakota.

The characters, with the appearance of skulls, populate a long theory of symbols known in the Far West epic and among the Native Americans.

They are the stage for a weaving of dream-catchers, redskin headdresses, silouettes of totems and baroque decorations in perfect colonial style ....


...a long rattlesnake wraps the entire Indian Chieftain, from its front fender to run along the whole livery to the majestic rear tail where the head of a bison stands out.

There is also the dead man's hand, the famous pair of eights and aces, of clubs and spades that went down in history as the last hand card of Wild Bill, assassinated in a saloon after drawing it from his rival to the game.

All the motorcycle parts have been entirely laminated with copper foil and airbrushed with opaque colours and genuine mother-of-pearl powder.

In the bronze-toned drawing, the transparent "campari red" stands out with its rich and intense reflections.

The glossy finish further enriches the brilliance and brightness of the artistic work thanks to its slight golden iridescence.


Details
Artistic intervention code : 000305


Art techiques :
Copper leaf, opaque and transparent colours for glass window.

Intervention details :

background : Full Metal
design : Dakota
extra 1 : ---
extra 2 : ---
extra 3 : ---
finish : Glossy finish

Processing time :
72 hours of artistic work on helmet
151 hours of artistic work on tank
252 hours of artistic work on motorbike set (3 pcs.)


Delivery time :
41 working days for one helmet
48 working days for one gastank
72 working days for a motorbike set (3 pcs.)

The delivery times are approximate and they are calculated based on the manufacturing and artistic processes, drying and testing times, and the processing orders currently scheduled.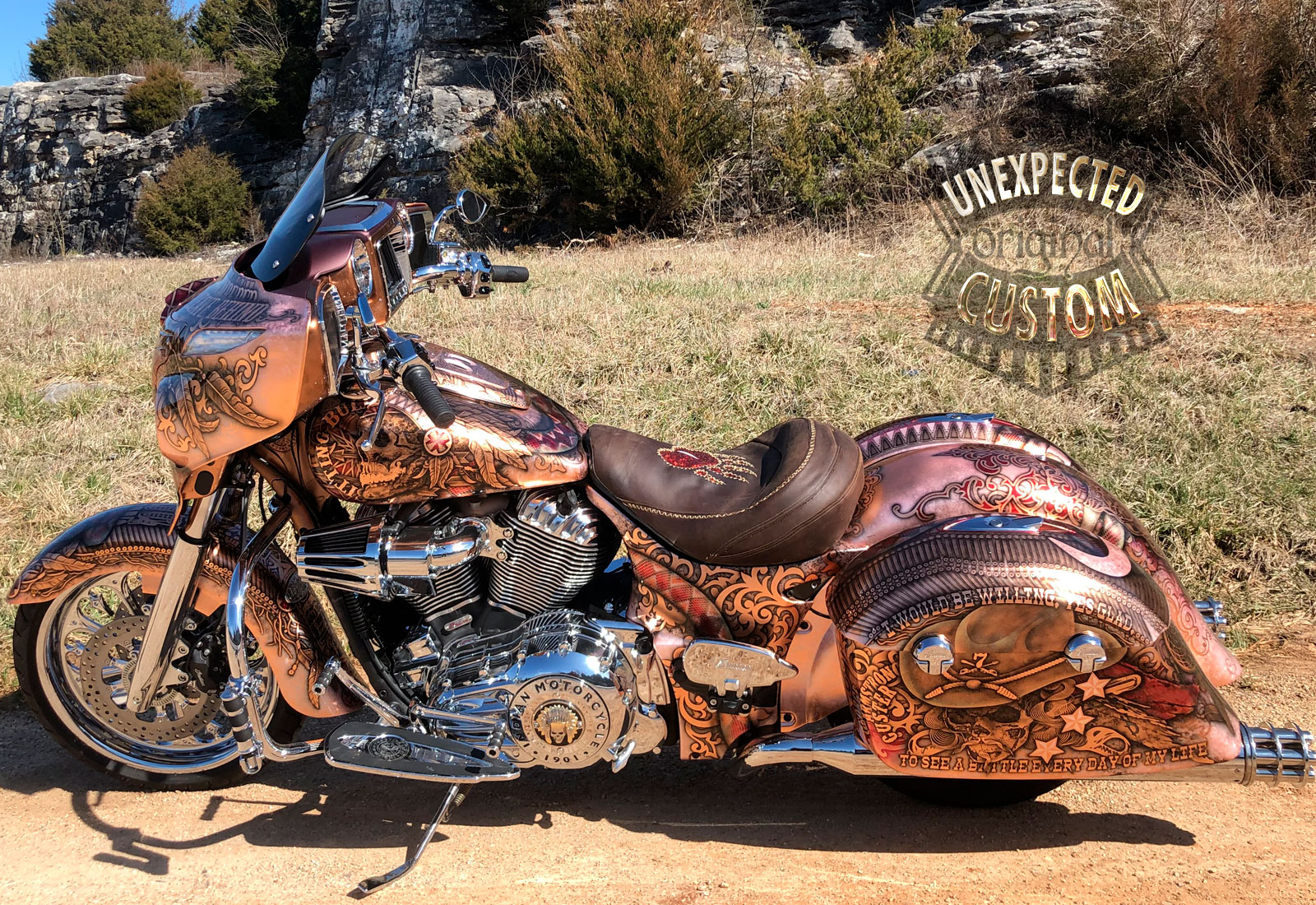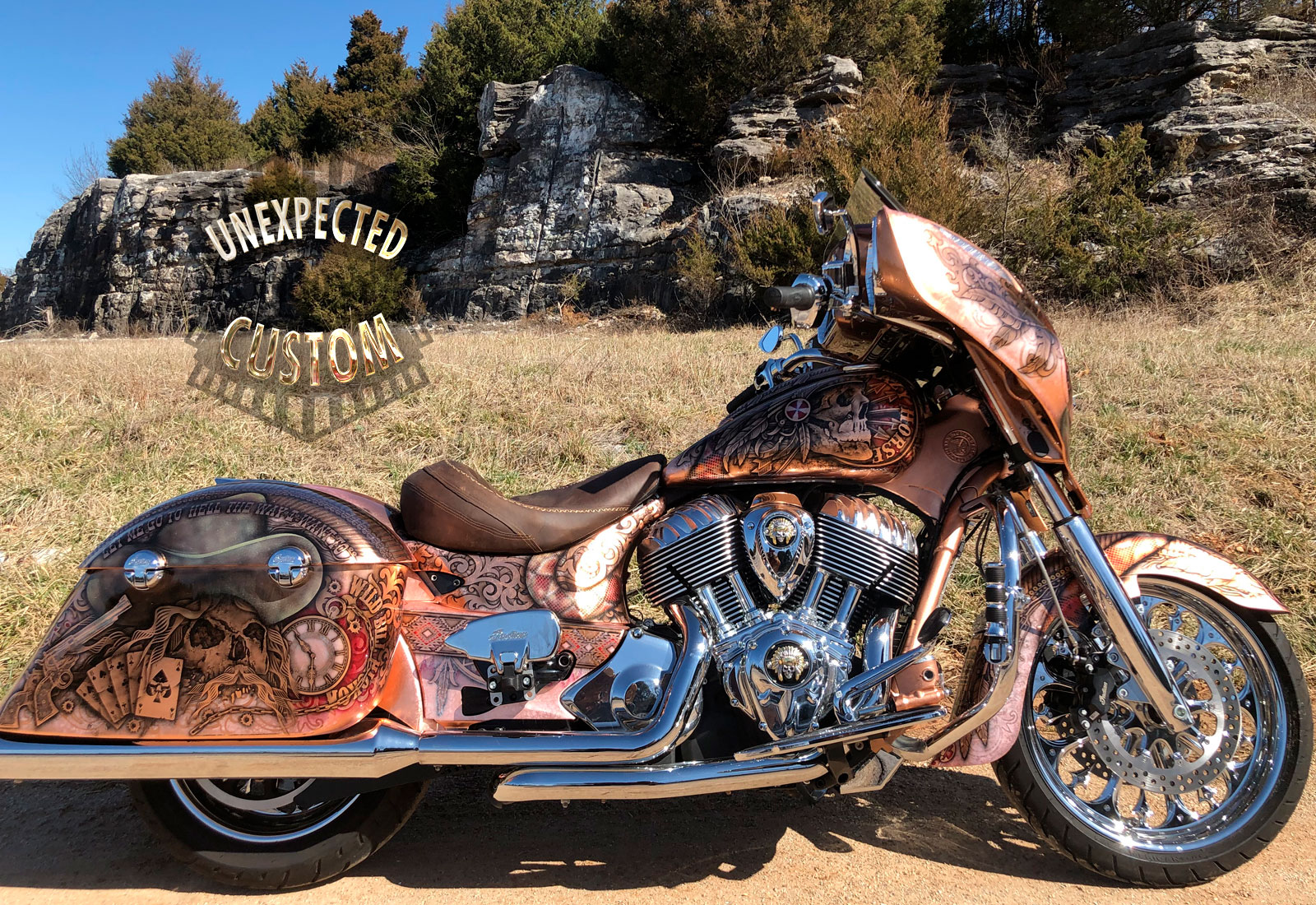 ACCESSORI MOTO