ENG




FOLLOW US

LOGIN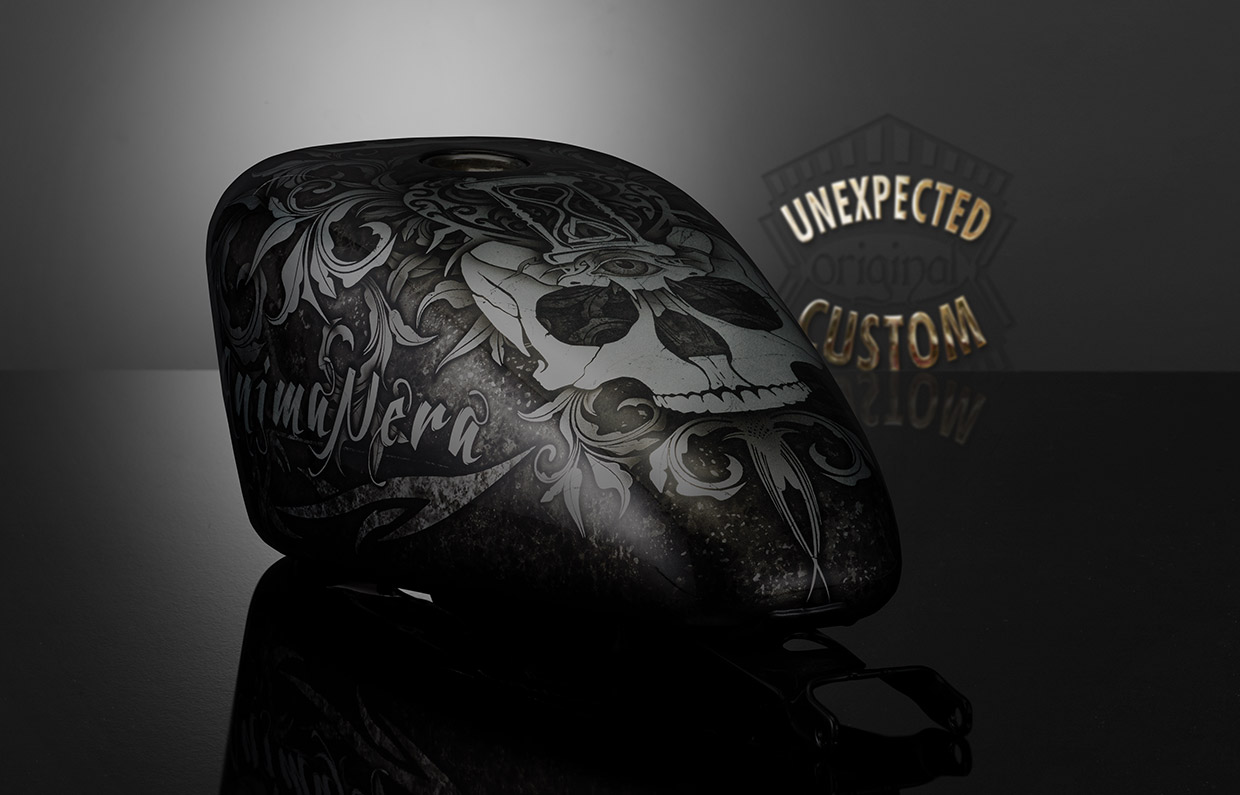 ANIMA NERA
design worked on Harley-Davidson Sportster
The design is composed by the rich baroque asymmetrical volutes contrasting with the dense weaving of leaves and specular floral motifs in the foreground.

The graphics are very refined and interpreted with different painting techniques, from the use of airbrush to the acrylic painting mixed with balanced elegance.

Signs by tribal inspiration enhances the complex backgrounds texture of the artistic paint job.
The chromatic peculiarity of the artistic execution on this Sportster tank is the black in its different forms.

For the lovers of the "Black on Black", the design has been achieved with the use of black and grey satin colours.

As in the silver and pearl version - see tank La Vida Loca - at the center of the artistic composition stands out the large stylized skull; enriched with two elements that characterize and further customize the design commissioned by the client: the eye surmounted by the hourglass.

The final matte finish effectively contributes to underline the aggressiveness and, at the same time, the elegance of the "All Black" livery.
Details
Artistic intervention code : 00020


Art techiques :
Airbrush, satin colours.

Intervention details :

background : Flat color
design : Mirrored Leaves
extra 1 : ---
extra 2 : Illustration
extra 3 : ---
finish : Matt finish

Processing time :
64 hours of artistic work on helmet
108 hours of artistic work on tank
164 hours of artistic work on motorbike set (3 pcs.)


Delivery time :
37 working days for one helmet
39 working days for one gastank
58 working days for a motorbike set (3 pcs.)

The delivery times are approximate and they are calculated based on the manufacturing and artistic processes, drying and testing times, and the processing orders currently scheduled.
ACCESSORI MOTO