ENG




FOLLOW US

LOGIN
B.M.W.
design worked on BMW Nine T 9
Minimal and aggressive.

The historic brand name of Bayerische Motoren Werke is the center as well the fulcrum of the radial rhythm that radiates in a three-dimensional game of overlaps.

The fractal logic of the monochrome design develops by breaking down the essential linearity of the volumes into an elegant and highly dynamic vortex.


The chromatic range of this special BMW Nine T9 tank expands from black to silver of the metallic leaf through all the shades that vary in brilliance and color thanks to the use of different aluminum powders and the particular "hatch" airbrushing process.


Details
Artistic intervention code : 000304


Art techiques :
Silver leaf, aluminium powder, airbrush.

Intervention details :

background : Full Metal
design : BMW 2
extra 1 : ---
extra 2 : ---
extra 3 : ---
finish : Glossy finish

Processing time :
37 hours of artistic work on helmet
78 hours of artistic work on tank
130 hours of artistic work on motorbike set (3 pcs.)


Delivery time :
37 working days for one helmet
39 working days for one gastank
56 working days for a motorbike set (3 pcs.)

The delivery times are approximate and they are calculated based on the manufacturing and artistic processes, drying and testing times, and the processing orders currently scheduled.
RELATED ARGUMENTS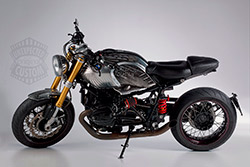 ACCESSORI MOTO