ENG




FOLLOW US

LOGIN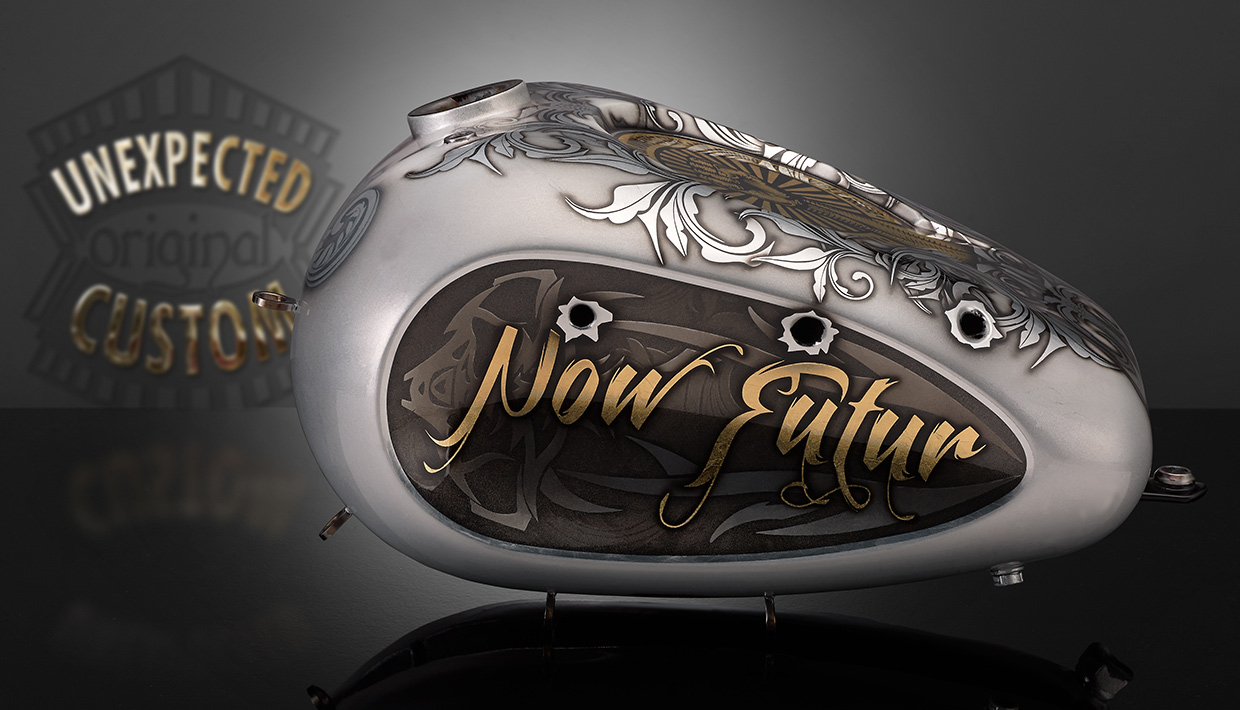 NOW FUTUR
design worked on Custom Chopper Indian Larry
The design is composed by the rich baroque asymmetrical volutes contrasting with the dense weaving of leaves and specular floral motifs in the foreground.

The graphics are very refined and interpreted with different painting techniques, from the use of airbrush to the acrylic painting mixed with balanced elegance.

Signs by tribal inspiration enhances the complex backgrounds texture of the artistic paint job.
The unmistakable Indian Larry shape of the tank was conceived and reworked by the Belgian artist Johan Muyle (watch the video Now Futur at Rebel Rebel) and it is the main piece of the artwork Now Futur: The art-chopper presented on the occasion of the Rebel Rebel event at the Museum of Contemporary Arts of Mons In Belgium.
Details
Artistic intervention code : 000257


Art techiques :
Silver leaf, gold leaf, genuine nacre powder, airbrush.

Intervention details :

background : Full Metal
design : Mirrored Leaves
extra 1 : Inlay in gold leaf
extra 2 : Illustration
extra 3 : ---
finish : Glossy finish

Processing time :
71 hours of artistic work on helmet
123 hours of artistic work on tank
189 hours of artistic work on motorbike set (3 pcs.)


Delivery time :
38 working days for one helmet
41 working days for one gastank
61 working days for a motorbike set (3 pcs.)

The delivery times are approximate and they are calculated based on the manufacturing and artistic processes, drying and testing times, and the processing orders currently scheduled.
The Work In Progress
Custom Tank
The unmistakable shape of the Indian Larry tank was modified by the artist Johan Muyle following a precise and iconic project.
In addition to the original niche, which will house the main design of the tank made on an additional gold leaf lamination, the holes were made that passing from side to side.
In these holes, some arrows will be inserted.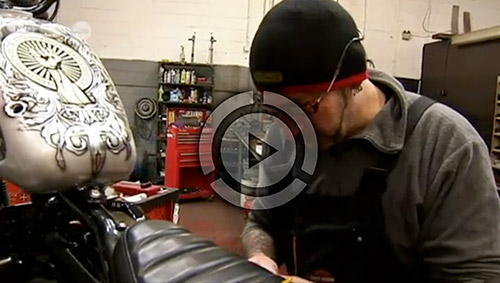 Unexpected Custom's Artwork at RTBF
The Unexpected Custom's special artwork tank during assembly of the motorcycle at the workshop in an editorial about the custom world on the Belgian broadcast RTBF.
watch the video
The Artwork
The refined Harley Davidson chopper, designed by the Belgian artist Johan Muyle and Unexpected Custom, was exhibited in 2016 at MAC's - Museum of Contemporary Arts at the former coal mine at Mons Grand-Hornu in Belgium.
To complete the artistic work, the helmet has been created, again in collaboration with the artist and the staff of Unexpected Custom, revisiting the original "INDIAN" design.

More info about the event: NOW FUTUR AT REBEL REBEL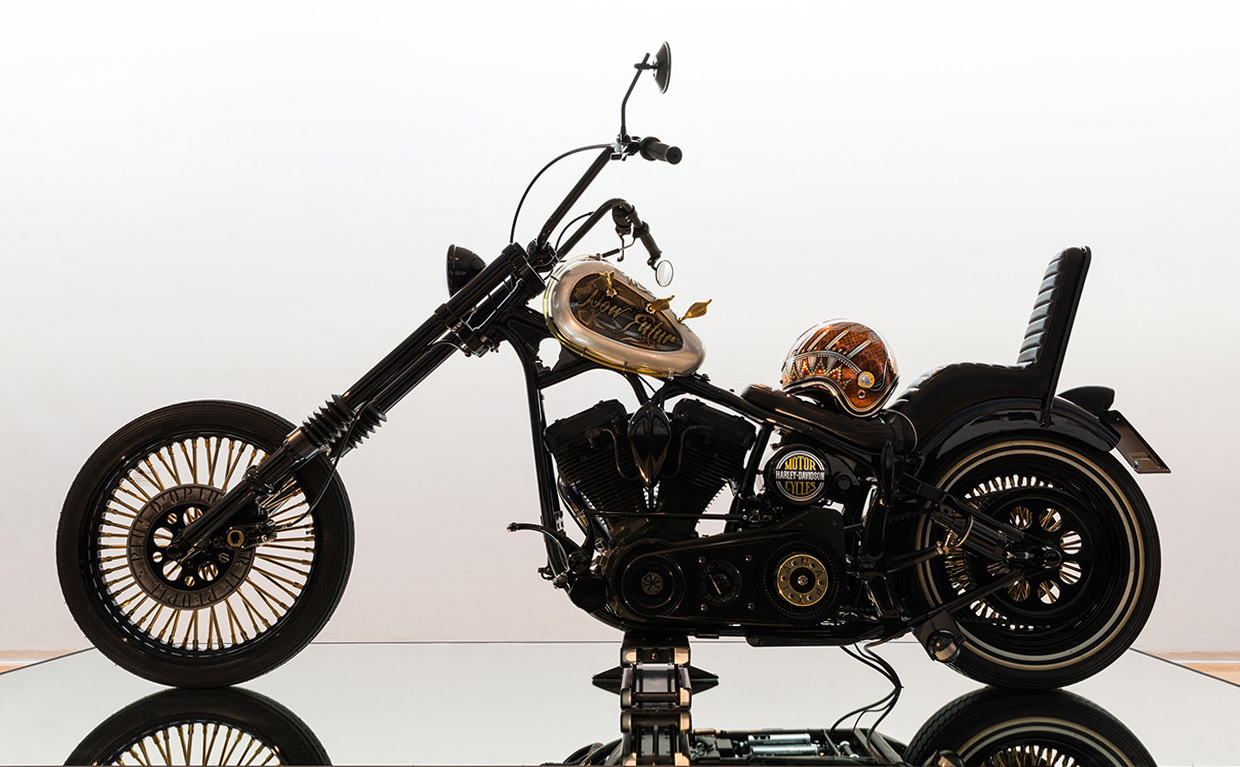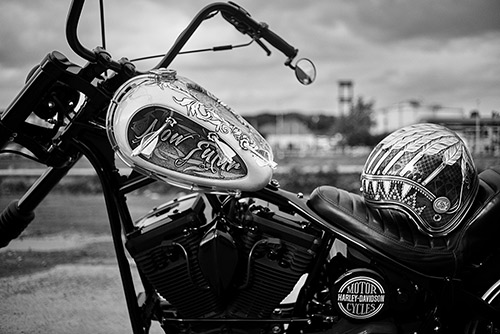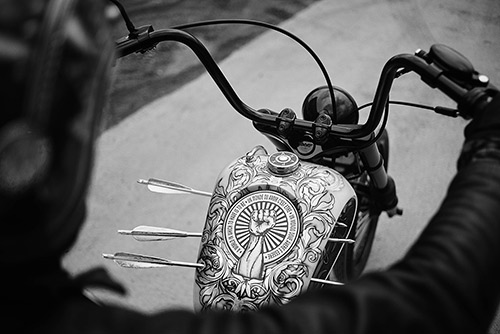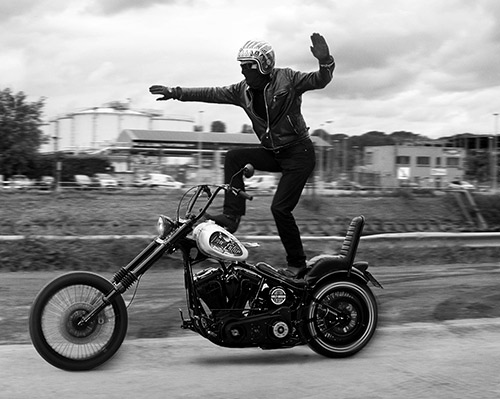 ACCESSORI MOTO