ENG




FOLLOW US

LOGIN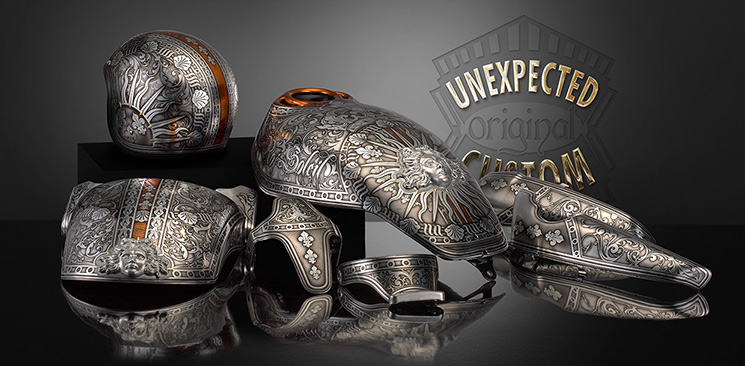 LE ROI SOLEIL
design worked on Harley-Davidson V-rod
During the seventeenth century, Louis XIV transformed a "common" Bourbon palace into an astonishing imperial residence; in the same way today the artist has turned a "simple" motorcycle into a fantastic artwork... and fantastic is the most correct adjective given that the ultimate aim of Baroque's art was to arouse in the spectator the feelings of surprise, wonder, and amazement.

From the complex compositional architecture irradiate branches, valves, volutes, all stuck on the points of a radial grille: a citation from the Grille Royale of Versailles from which the artistic composition is inspired.
The decorative and symbolic elements, that compose the famous grille, are reproduced in an unusual and refined stylistic research.

Unmistakable are the symbols of the royal kingdom of King Louis XIV known as the Sun King: the personal crown of the monarch, The scepter of the Main de Justice and the famous Fleur-de-Lys: the heraldic figure of the lily, that in Medieval France, assumes the sense of emblem of royalty and distinguishes the Real blasone.
THE TECHNIQUE:

Motorcycle parts entirely laminated in silver leaf.
Painting interventions in pure (nacre) mother-of-pearl.
Airbrushing in opaque colours and special pigments for glass.
3D sculpting.
Swarovski brass studs.

Details
Artistic intervention code : 000290


Art techiques :
silver leaf, genuine nacre powder, transparent glass colours, 3D elements, Swarovski studs.

Intervention details :

background : Full Metal
design : Versailles
extra 1 : ---
extra 2 : no. 2 bas-reliefs 3D
extra 3 : Swarovski Studs - 50 pc.
finish : Glossy finish

Processing time :
66 hours of artistic work on helmet
136 hours of artistic work on tank
227 hours of artistic work on motorbike set (3 pcs.)


Delivery time :
40 working days for one helmet
46 working days for one gastank
68 working days for a motorbike set (3 pcs.)

The delivery times are approximate and they are calculated based on the manufacturing and artistic processes, drying and testing times, and the processing orders currently scheduled.
ARTISTIC INTERVENTION:

Before proceeding with silver laminating, war carried out the preliminary basic preparations such as alterations of the original shapes, plasterings, special silver plating preparation, etc.
The artistic execution is been made on 7 motorcycle's parts: tank cover, rear fender, front lamp and the holder, small front fender, two side radiator's shells.

3D MODELING:

Located in the center of the refined rays on the tank and at the end of the rear fender, to enrich and embellish the artistic composition, are achieved two three-dimensional bas-relief depicting the face of the famous sovereign.
Three-dimensional modeling was carried out by the Studio Dan ; after a careful reconstruction of the bas-relief, placed on the rich Versailles railing, several prototypes were built to integrate into the structure of the bike's parts.
ACCESSORI MOTO