ENG




FOLLOW US

LOGIN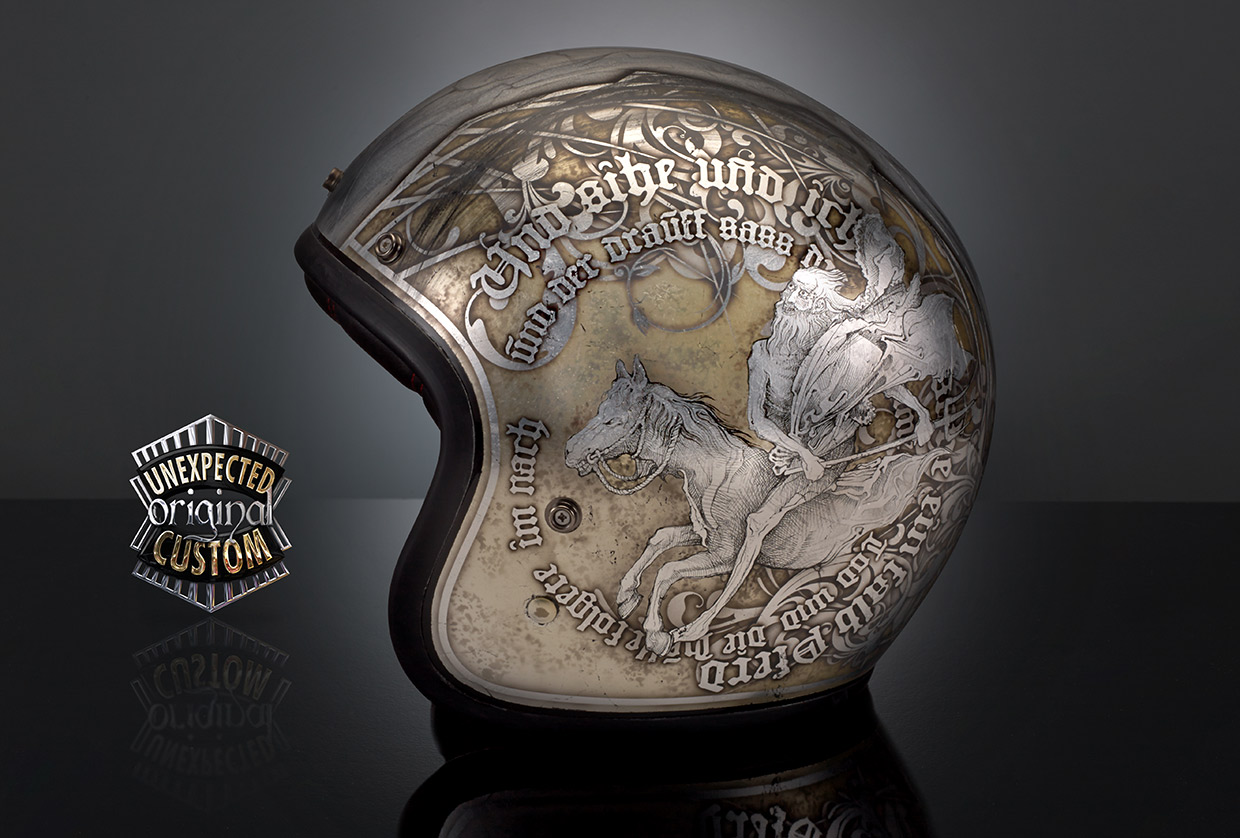 APOCALYPSE
design worked on Bell Custom 500
Unexpected Custom has no fear of dealing with cultured themes and talking with the greatest artists in history.

Here the analysis focuses on Albrecht Dürer and one of the most famous xylographs of his vast artistic production.
The "Four Horsemen of the Apocalypse" (1498) is part of the Apocalypsis Cum Figuris series.
Fourteen engravings illustrating the latest New Testament book written by St. John the Baptist.


The artist in this helmet divides the print by taking two of the four knights by placing them individually on the sides of the object.

Voluntarily the sign is less incisive than the Dürer's artwork, technically bound to use wood for matrices, and preserves all the expressiveness by making precious knights like two big coins, aerial and cared as if they were printed on a banknote.

The graphic power reserves the quotes of the evangelical (here in the version drawn by Luther in the sixteenth century) text that form two great auras that enclose the characters, to reiterate, as did Dürer himself, that the truth of things is contained and revealed in biblical pages.

Finally, the composition closes on the top of the helmet, where the engravings are opened as stones struck by a mallet, revealing the inevitability of the death and suffering represented by an ossuary in the process of rising again: an erudite visual citation of the famous Biblical passage of Ezekiel 37.12 to 14 .
Details
Artistic intervention code : 000289


Art techiques :
Silver leaf, engraving, graphite, acrylic paint, airbrush.

Intervention details :

background : Full Metal
design : Apocalypse
extra 1 : ---
extra 2 : ---
extra 3 : ---
finish : Glossy finish

Processing time :
142 hours of artistic work on helmet
298 hours of artistic work on tank
497 hours of artistic work on motorbike set (3 pcs.)


Delivery time :
50 working days for one helmet
66 working days for one gastank
102 working days for a motorbike set (3 pcs.)

The delivery times are approximate and they are calculated based on the manufacturing and artistic processes, drying and testing times, and the processing orders currently scheduled.
ACCESSORI CASCHI