ENG




FOLLOW US

LOGIN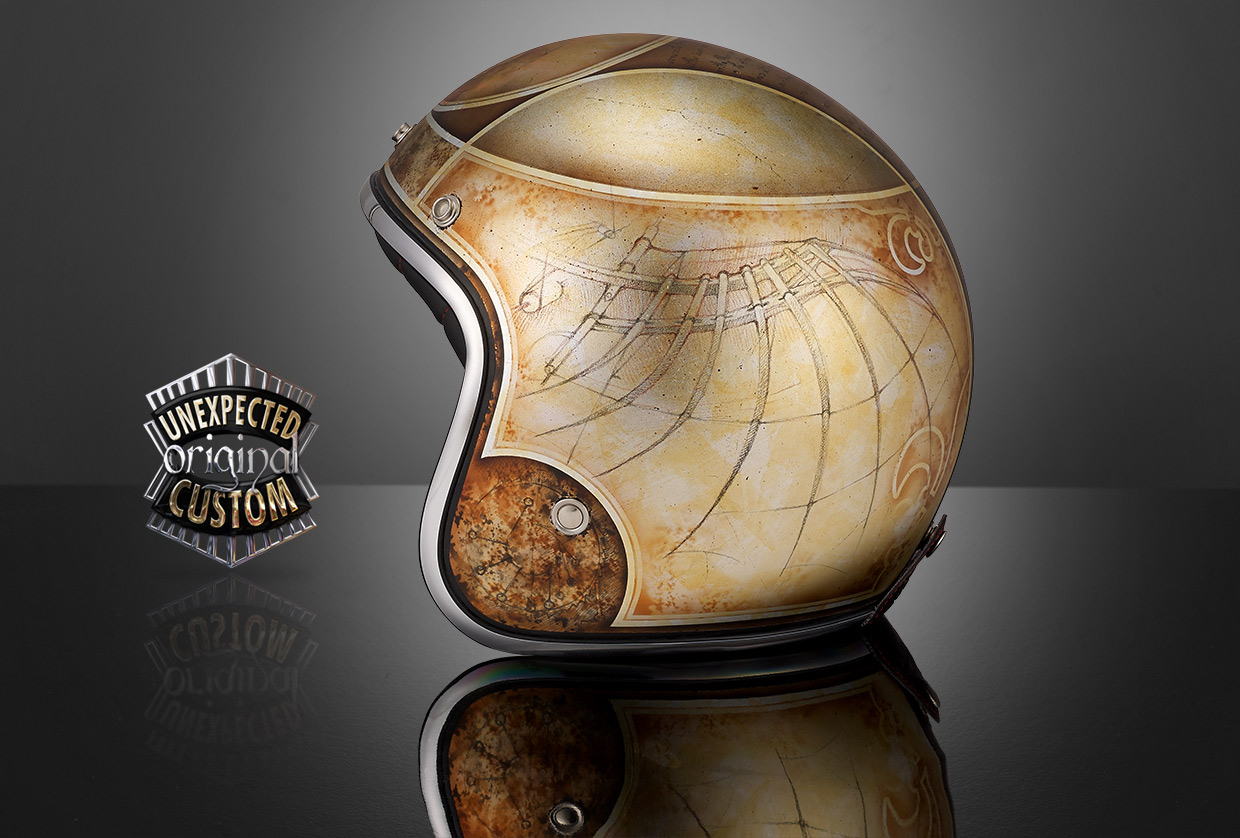 DA VINCI
design worked on Torx Wyatt
Unexpected Custom artists love to relate to the great masters of art, studying their work and making it an important source of inspiration: Leonardo Da Vinci is certainly a magnetic pole that can not be ignored.

The theme is among the highest of the artistic research of Leonardo da Vinci.
The study for the creation of a wing able to bring men in the sky.
the theme is drowed from the Atlantic Codex, one of the most creative and extensive studies in the history of human cleverless.
From the compositional point of view, the light colours of the object lead us to think that his arrangement chart is simple and regular, but that is not so, space is divided into more complex forms than it appears at first sight.

The curves, so much loved by Leonardo until they become a method and a canon, have been studied insomuch to repeat those of the object and are so resumed.
Extrapolated and reorganized to perfection and, precisely for this reason, appear as natural.

Two large wings have been drawn on the wide side panels, exactly in the Leonardo's style.
The sign is tenuous, proof of the aerial perspective study, and blend with the background almost exactly as it would become an antique drawing on a yellowed by the time.

On the back, the two large curves form an upright in which the artist writes codes with the same handwriting of the Florentine master.

In the balanced organization of the spaces, the Unexpected Custom logo is inserted into a Vitruvian circle.

Everything is thought in proportional relationships: reality is not an inventory of things but the relationship of man with space and the world.
Details
Artistic intervention code : 000282


Art techiques :
Silver leaf, graphite, pastels, charcoal, airbrush.

Intervention details :

background : Full Metal
design : Da Vinci
extra 1 : ---
extra 2 : ---
extra 3 : ---
finish : Matt finish

Processing time :
57 hours of artistic work on helmet
120 hours of artistic work on tank
200 hours of artistic work on motorbike set (3 pcs.)


Delivery time :
39 working days for one helmet
44 working days for one gastank
65 working days for a motorbike set (3 pcs.)

The delivery times are approximate and they are calculated based on the manufacturing and artistic processes, drying and testing times, and the processing orders currently scheduled.
ACCESSORI CASCHI